Put away your 'Hoverboards' and flying cars.
The future is finally coming, as promised, thanks to an Albertan company named as One of Alberta's Most Innovative Organizations.

BY @SHANNONROUTLEY | AUGUST 9TH 2014



I remember being a child of the '80s, going to the movie theatres to watch Back to the Future II and being simply astounded at the scenes of Marty McFly sailing through the streets on his Mattel™ 'hover board'.
Way before the modern day rumour mill that we call the internet, a rumour existed that was so compelling it quickly spread through playgrounds everywhere. The rumour was that the Mattel™ Hoverboard was real, and the one shown in the movie was actually an early prototype. This was perhaps one of strongest examples of wish fulfillment I will likely ever experience in my life. Sadly, for '90s me, it turned out to be just school yard lore.
Well, I'm still holding out hope, as the events of the movie were set in the year 2015, and while we may not be seeing hover boards and flying cars, I can tell you this - something is certainly in the works.
Recently, Mediashaker has completed work for an Alberta technology company - Magnovate Technologies, helping craft the website and giving their corporate logo a refresh.
In our first meeting, I had to pull my mind back to earth as it was just reeling from the possibilities of the many technologies Magnovate has under its wing. Unlike many tech ventures in the early stages, their company is not just funding research or prototyping this new technology - the prototype is done, and it works.
Okay, let me spill the beans right here. Two words. Hover car.
Well, they are actually the latest generation of magnetic levitation vehicles. Which, by the way do actually hover, so I think 'hover car' is not too far off.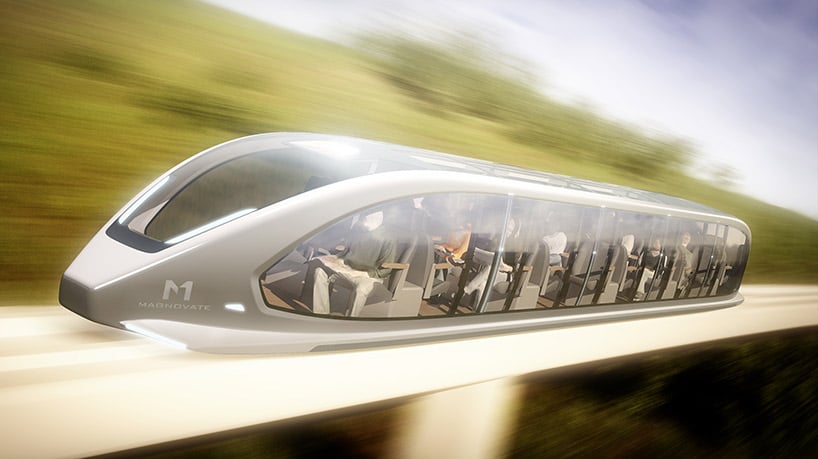 (artist concept provided by Magnovate)

Magnovate's ideas are much more evolved than I can describe in this blog post. Put it this way, we are talking light weight vehicles that can travel (did I mention they hover?) along raised platforms that look more like a neural net of connected branches. Individual vehicles will cart passengers from one destination to another, with the ability to bypass unnecessary routes and stops altogether. Fast, efficient, and able to be powered by energy collected via solar arrays along its lengths of track, the vehicles could represent the future of ground transportation.
Next time you are waiting at the stop light, waiting for a bus, or waiting for a train - imagine all that wait may be the thing of the past.
With such a cool innovation, it doesn't come as much surprise for us to learn that Magnovate Technologies has made Alberta Venture's list of Alberta's 25 Most Innovative Organizations.


Connect with them
www.twitter.com/magnovate (they just recently setup their feed so give them a follow)
Learn more at