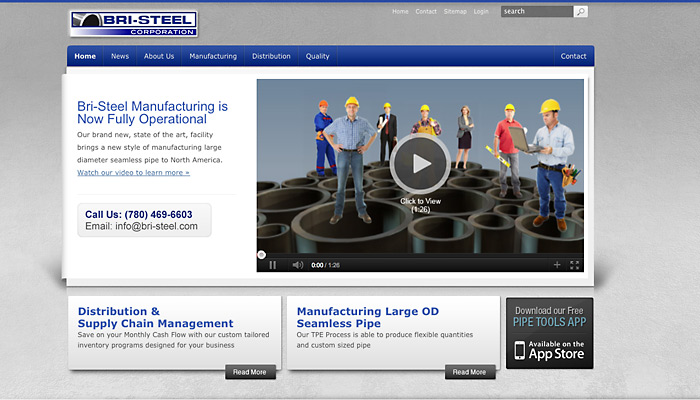 Bri-Steel Corporation Website Launches for North American Clients
Our client required a site that showcased their high-standard of professionalism as well as communicated the application of their product. Along with the development of their website, Mediashaker developed a high-end CGI video (see below) to demonstrate the process and opportunity. Our team toured the Bri-Steel facility and interviewed their team to learn as much as possible about what makes them standout in the industry. From this point, we created concepts for their website, and video script and storyboard. With this first stage approved we moved to create the site and the animation which you see below.
About Bri-Steel Corporation
The company is currently the leader in manufacturing large diameter seamless pipe in North America. With a brand new facility developed in Edmonton's south east area, it marks a significant development for clients on the continent looking for a cost and time effective way to get custom size pipe developed. They use heat-induction to resize the pipes to larger diameters.
Watch our video to learn more »
To learn more about Bri-Steel Corporation please visit their website at: