6 Surefire Ways To Create An Irresistible Facebook Business Page
936 million active users login to Facebook on a daily basis.
11 Million people use Facebook every 18 minutes and users typically spend 21 minutes per day on the platform.
If you aren't using Facebook yet for your business, stats like these hopefully make you ask
"I am missing out?"
The answer is yes. Having a business presence on Facebook is a crucial these days. Over 50% of adults in Canada are now on Facebook and are logging in every day, so getting your brand in front of all those eyeballs could be very beneficial to your business even if you only market to a smaller local audience such as Edmonton.
Putting up your own Facebook page and use it to market your brand can be a much cheaper, easier and more dynamic way to market your business compared to other more traditional forms of advertising such as print or video ads but it can potentially reach more people.
Your Facebook page should be an extension of your website in reflecting your brand.
There are a few important elements that need to be paid attention to when it comes to creating an engaging Facebook page. Here are 5 steps that will help.
Step 1: Have a great cover photo
Having a great cover photo is essential. It is the focal point of your Facebook page and should say a lot about your brand while remembering that it will be the first thing that gets noticed by users when they visit your page.
There only real guideline set by Facebook when it comes to what you can have on your Facebook page cover photo is:
"Cover photos must follow the Pages Terms and can't be deceptive, misleading or infringe on anyone else's copyright."
As shown in the image above. The dimensions for the Facebook page are currently 851px wide by 315px high and it is best to use a high resolution image.
Cover Image Aesthetics
Lets talk about the aesthetics of your Facebook cover image and the ideal way to present it for your audience:
Because the profile pic is on the left, make sure you keep any text and call to action buttons on the right hand side of your Facebook cover photo.
Make sure the cover photo and profile photo work together to provide a cohesive brand image. You want even the most casual visitor to your Facebook page to be able determine who you are and what product or service you provide and it should also include your selling proposition: why you think your company is better than the competition.
Here are 2 examples from KLM and Post Planner:
If you need some help coming up with a great Facebook cover image, take a look at Canva which comes with lots of premade templates that look great right of the box.
Step 2: Fill Out Your Profile Fully
Make sure you fill in as much information about your business as you can on the Facebook page profile, including:
Start Info - Let your audience know when your company or product was created, started or launched. This info will show up on your page's feed as an update at the very bottom of your page.
Address - If you are a business servicing a local population, then having your address front a center on your Facebook page is a great way to get more foot traffic to your business.
Long Description, Website - Make sure you add some additional details that flesh out what your business does and be sure to include a link to your website.
Phone Number/Email Address - Including these additional content details is a great way to encourage people to get in touch with you.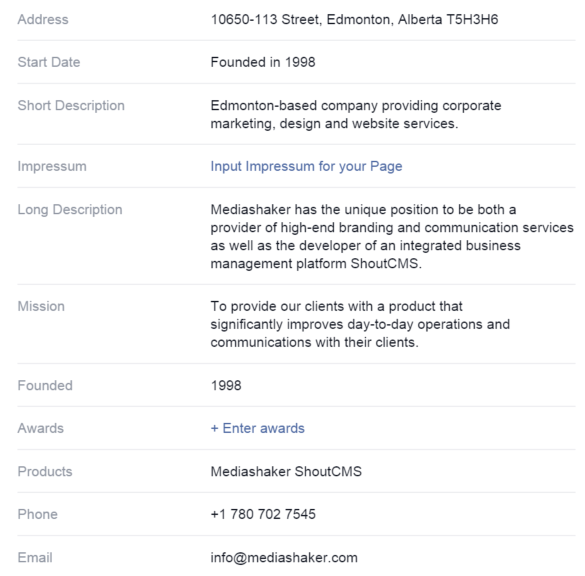 Step 3: Learn How To Pin, Star and Hide Posts.
If you hover your mouse over entries you have made on your Facebook page You get a few options as shown in the screenshot below:
So you can choose to pin your site to the top of the page, so that it shows above all the other content on your timeline. This can be a great way to quickly get across important info to your audience. Here is an example from the Mediashaker page:
Another option is to be able to highlight posts on the timeline, this used to make the posts bigger on the timeline, but it lost that effect in recent updates and now is a fairly pointless feature.
In a recent study it was shown that Facebook posts with fewer than 80 characters get up to 60% more engagement. So pinning or staring posts that are interesting, but concise is a good technique.
Step 4: Track Your Activity
Be sure to use Facebook insights to keep tabs on your pages activity. You can see how each of your page updates are performing and quickly see what is working so you can make more posts like that in future.
Other insights you can track include demographics of who is visiting your page and from which country and city they are visiting from.
It is important to keep your audience engaged on Facebook. It is one of the ways that your posts will display higher in the news feed so take the time to create engaging content rather than have it just be an afterthought.
Step 5: Engage with Your Followers
Many business owners never take the time to engage with their customers on their social media channels which is a terrible mistake.
Your social media channels are the ideal venue to engage with your customers, answer their questions, acknowledge their presence and thank them for following your brand. These actions will increase your brand value and build trust with your customers.
McDonald's do a great job of engaging with their Facebook fans:
As a Facebook owner you can ask your audience questions, run contests and find out what people think about potential new products or services you are thinking about offering.
If you get negative comments about your business don't just ignore them. Instead, take the time to engage that person and address their concerns. Other followers will see that and respect how transparent your brand is.
Step 6: Use Call To Actions
Call to action are like nudging your audiences and telling them to follow a specific action.
Many Facebook business owners create a page, but tend to miss having a call to action in place that they expect their audience to respond to.
So what are looking for people to do on your page? Are you looking for them to comment? like your page? Or click through to your website?
Subway do a great job of implementing call to actions in their Facebook posts: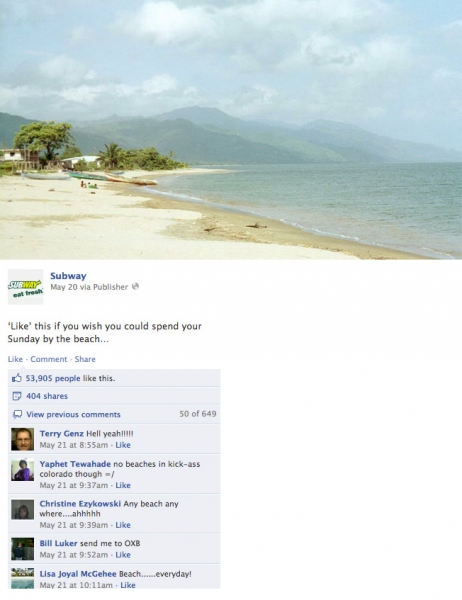 If you follow these 6 steps you are sure to have a more engaging Facebook page that will attract new followers and potential customers for your brand.